The Gilroy Branch of AAUW is a powerful network for change:
We raise thousands of dollars each year for the Educational Foundation and for local scholarships.
We provide funds for middle school girls to attend Tech Trek, a science/math camp at Stanford University.
We offer fun and fellowship for our members through a variety of programs and interest groups.
AAUW promotes education for Women and Girls
Education Foundation scholarships
Tech Trek scholarships
High school scholarships
College scholarships
AAUW gives:
Over $2 million annually for fellowships, grants and research on girls and education, through the Educational Foundation
Financial support for women challenging sex discrimination in higher education through the Legal Advocacy Fund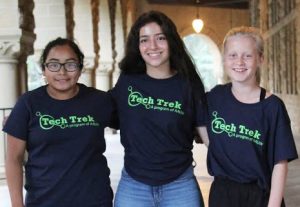 Tech Trek Girls for 2017